FTP Website Access
FTP Upload Instructions WS_FTP
NOTE: These instructions are written for use with WS_FTP. If you do not have WS_FTP, an evaluation version is available atwww.wsftp.com.

Instructions
Open the WS_FTP client and click the NEW button (shown below).



1. Profile Name - Name your site in the "Profile Name" field (this can be any name to distinguish your site from other sites in the FTP client workspace.)

Examples: My Site, My domain, My Whatever
2. Host Name/Address -
The server name is your domain name or your IP address. If your domain name has not yet transferred / registered, you mayuse ftp.bizcom.com as your address.
Example: ftp.yourdomainname.com

3. Host type - this should be set to "automatic detect"
4. User ID - this is the "username" that was issued to you when you signed up with Bizcom.


5. Password - This is the "password" that was issued to you when you signed up with Bizcom.com
(note: if you check the "save password check box", you will not have to enter this password again.)
5. Click "Apply" and Click "OK"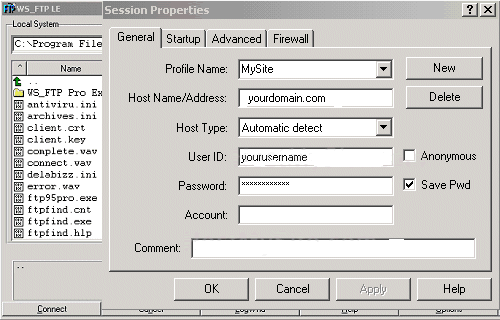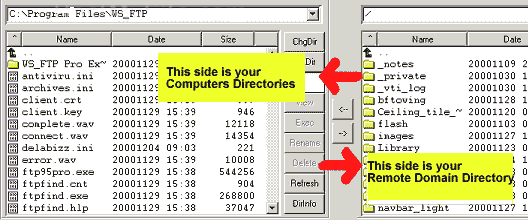 To Transfer files to your remote directory.
1. Find the file on the left side which is your Computer directory or Local Directory.
2. Click on the file to highlight it and click the arrow that faces to the Right side which is your Remote directory to send the file to that directory.
(Note: Repeat in reverse to download from your remote directory to your Local Computer directory.)

Note: in order for your site to show up when you type in your domain name or IP address into a web browser, the first page or the home page must be named one of these file names:
index.html (standard HTML extension)
index.htm (standard HTML extension)

Also, these documents carry an "order of precedence" as they are listed above. For example, if you have both an index.html file and an index.htm file, the index.html file will be the one that shows up when viewing your site with the domain name.