MAXIMIZING CUSTOMER SERVICE
Customer Relationship Management (crm)
Customer Relationship Management (CRM) is an approach that helps businesses improve existing customer relationships and acquire new customers faster. Here's a complete CRM overview for you to get started easily and understand the benefits it can bring to your business.
CRM - Meaning & definition
The meaning of CRM has changed a lot over the years. CRM is a term that was initially defined and designed to improve customer service. Today, though, it relates to an entire business strategy. CRM software acts as a single repository to bring your sales, marketing, and customer support activities together, and streamline your process, policy, and people in one platform. We've put together a short explanation video of what CRM really means and what it can do for your business.
Intelprise suggests ZOHO CRM as its customer relationship of choice to implement on most of our projects.  We are certified integrators of all Zoho extensions.  Checkout their CRM:
Check it out.
Why businesses choose CRM software
CRM is the largest software market in the world, and has increasingly proven to be the best technological asset that companies can invest in. With the prominence that the cloud CRM software market has been gaining over the years, and the ease with which CRMs can integrate with other applications that businesses generally use, CRM systems help implementors cover every aspect of their business cycle with an increase in sales & marketing returns, all while helping them cut down on their costs.
Eight essential building blocks of CRM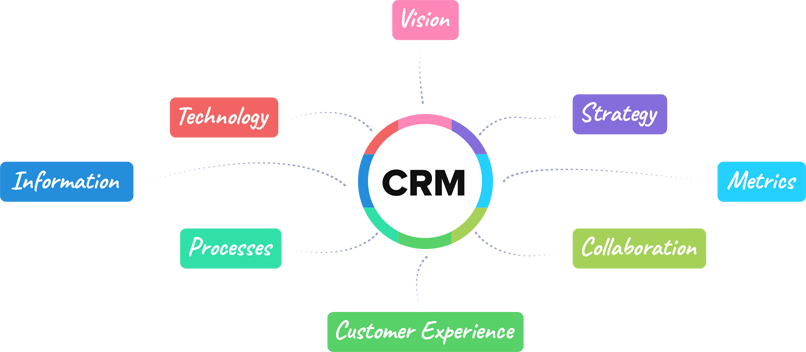 Watch out for these indicators
Whether you're a small business looking for a place to store information and have it accessible across multiple devices, or you're a large business wanting to manage customer interactions and focus on improving customer satisfaction, eventually you're going to need a Customer Relationship Management (CRM) software if your current process is unable to find solutions to these pressing problems.
Key features of CRM software
50% off your purchase of CRM implementation with us.
Talk to one of our Solutions Specialists to see how we can help your business grow. We are a full service agency, based in Miami, with expertise in Strategy, Branding, UX/UI Design, Custom Development, Integrations, E-Commerce, Digital Marketing and Content Production.