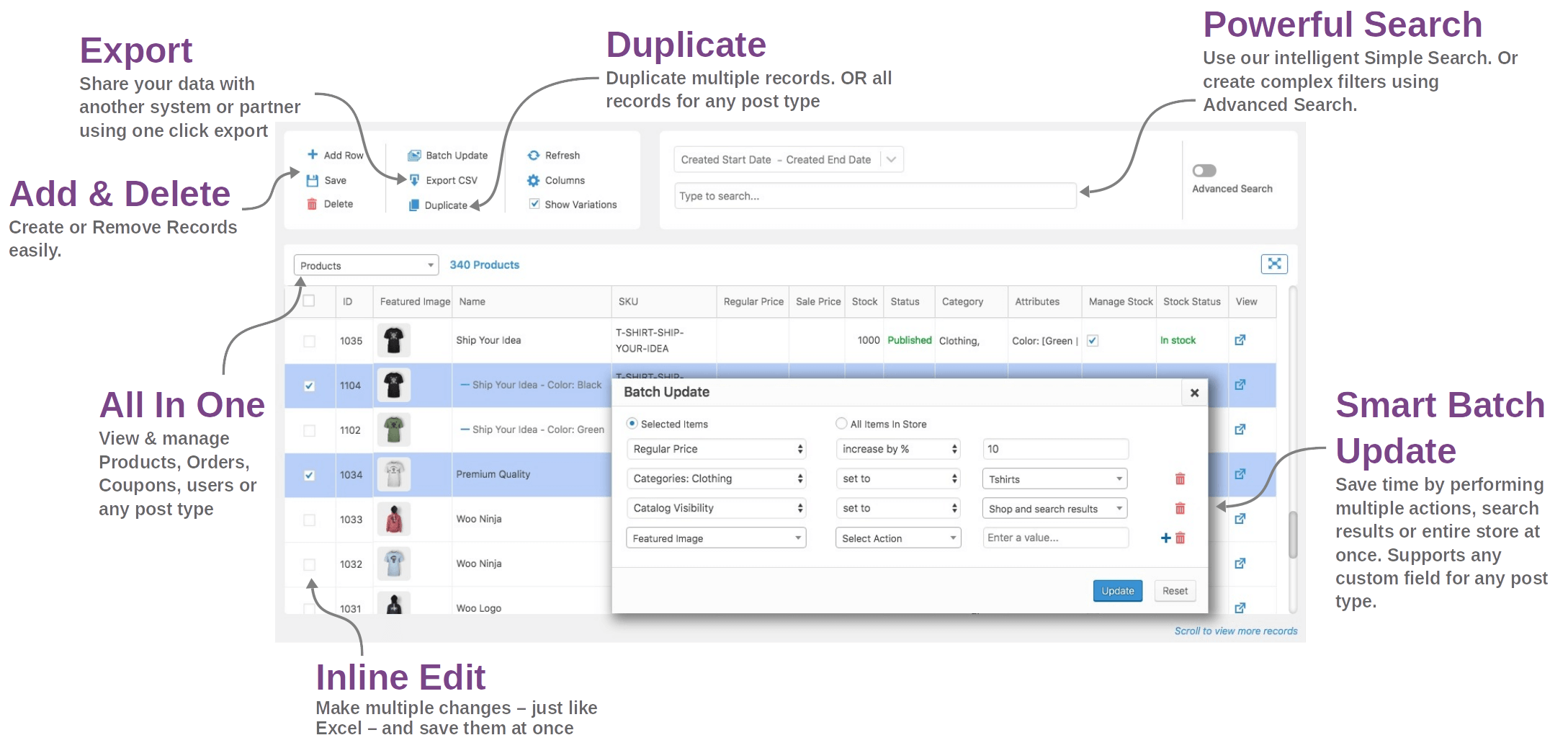 Woocommerce Smart Manager Pro v.5.21.0 is WooCommerce's Best stock & inventory management plugin. Bulk edit and manage products, prices, orders, coupons, admin columns or any WordPress post type using spreadsheet like table editor.
Woocommerce Smart Manager Pro Features
Bulk update product prices, categories and inventory
View and manage variations of a product
Look up orders and customers quickly
Set – and revert – sale prices for promotions
Export store data to CSV file without any corrupt or missing entries
Add custom meta field values
Quickly change discount rules for many coupons at once
Change product image for all products in a category
Manage media directly – add, delete 'Product Gallery Images'
Set SEO, customer reviews, subscription and other properties
Manage WordPress user roles – change user role, change password, etc.
Change customer's email address – as well as other details
View customer's lifetime value, last order date and contact details

ULTIMATE TIME SAVER

Bulk edit thousands of items flawlessly

Whether you have a 100 product store or 100,000 – you can update everything at once – quick and easy!
Save Time with Unlimited Bulk Edit
Select as many items you want and change any of their properties at once. This is tremendous power and flexibility, nothing comes close to Smart Manager here. And BTW, you can even mass update all items of a particular post type in your site at once!
Change Multiple Columns at Once
Change as many attributes / fields as you wish in a single Bulk Edit / Batch Update operation. For example: Reduce price by 25%, append special to product names and increase inventory by 500 units – you can apply all these operations to all selected items in one go.
Avoid Human Errors
Smart Manager takes care of boring (and erroneous) calculations in prices and stocks. It can append or prepend text and can change product groups. You only have to set your choices and Smart Manager will take care of all mathematical / text calculations in the background.
Instantly find & manage whatever you want
Goodbye tedious search and navigation! You'll get an intuitive and powerful search system with Smart Manager. Quickly find anything with simple search, or narrow down with any custom fields using advanced search.
And of course, you can sort, show, hide admin columns as you like.